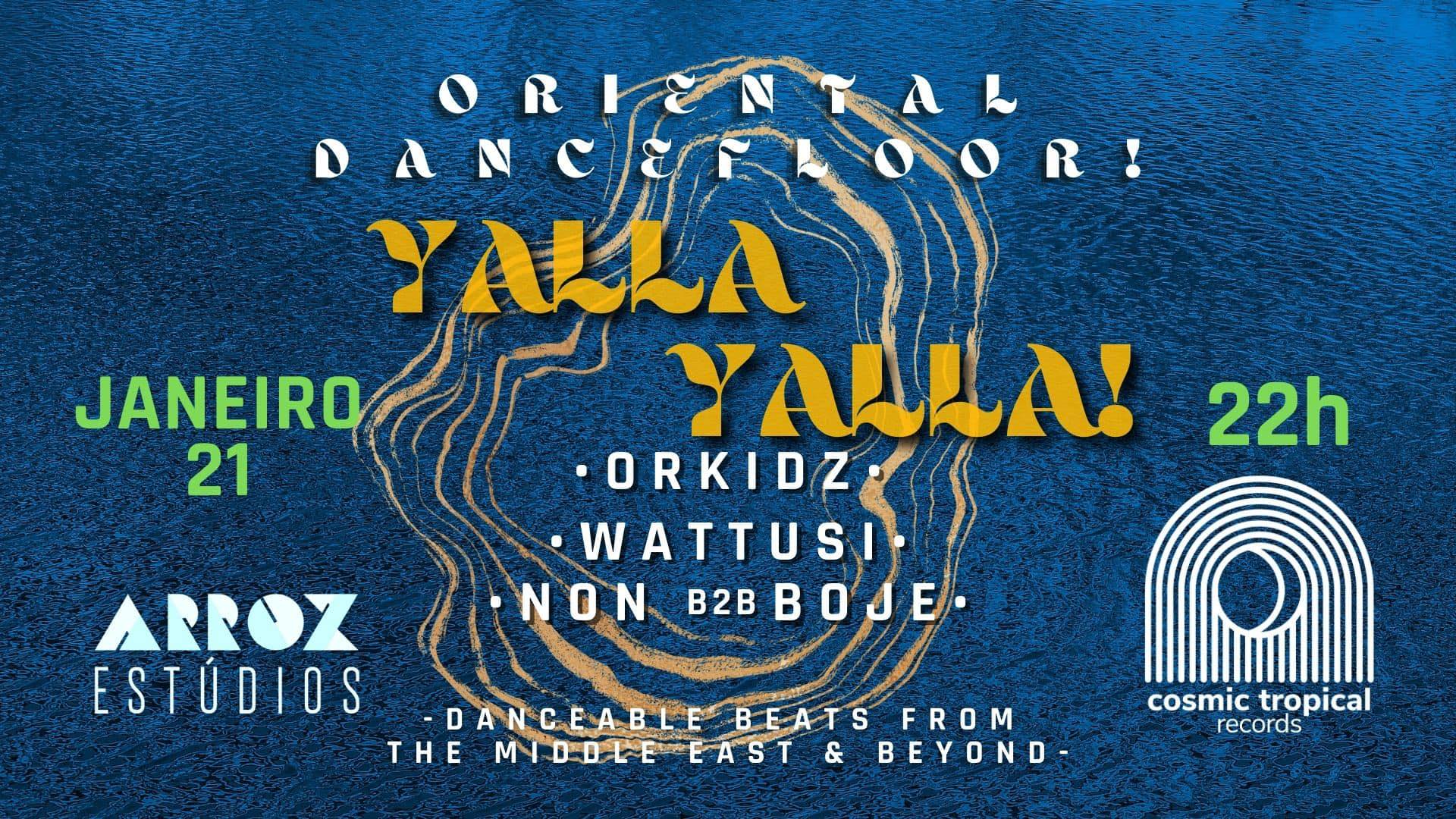 Yalla Yalla! – Oriental Dancefloor – Arroz Estúdios
MUSIC & DANCE lovers! this is a call for you all to come this Saturday January 21st, to @arrozestudios for the Oriental Dance-Floor 3rd edition, an incredible night of Arabesque sounds and Middle Eastern beats.
YALLA YALLA!!!
We are very excited to have very especial guest for the night
ORKIDZ @orkidz : Producer and musician, he has released music with labels like: @cafedeanatolia @solselectas @lumprecords @kosa …
He will play an hybrid DJ/live set 
WATTUSI @wattusimusic will keep it hot, creating a musical journey to move along a set with live instruments and electronic beats
They are part of the @wayurecords family
NoN b2b BOJE @n_o_n_project @bojesax
These two great producers/DJs will join talents to creat a great atmosphere with an hybrid DJ/live set
NoN: NoN project mixes different musical styles such as trip-hop, jazz, organic house, down tempo and minimal techno.
BOJE: Diego Boje is an Andalusian saxophonist and producer.
He mixes ethnic sounds and rhythms in electronic music, always influenced by jazz, rock, blues and flamenco sounds, which he fuses with live instruments, always led by the saxophone in all its aspects.
He had collaborated with @holedcoin and released with @kmtrecords and @sirin_music
 Entrance:*
 8€* Early Bird Cosmic Tropical
20 tickets
 9€* Pre Sale (ends 24h before the event) 
10€ *
*REMINDER: All the assistants need the Arroz Studios anual membership card that cost 3€
Bring your card if you already have it!
FOLLOW @cosmictropical (facebook and instagram) for more info and upcoming events
The event is indoors and there will be heaters and fire place to make the space cozy!
SEE YOU SOON!
YALLA YALLA!!!!
Yalla Yalla! – Oriental Dancefloor – Arroz Estúdios