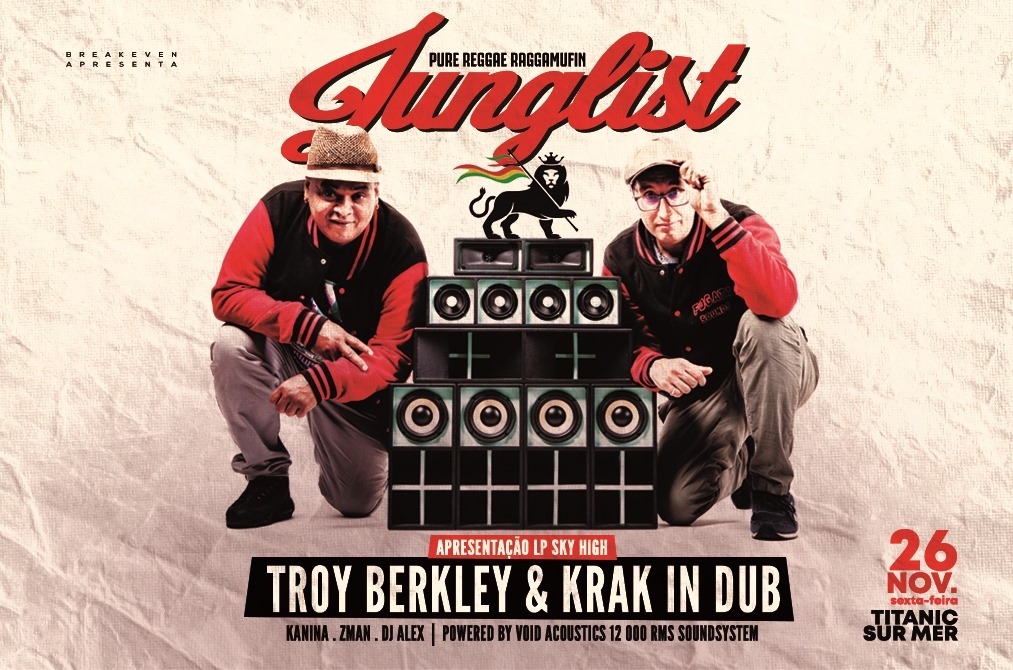 JunGLisT – KRAK IN DUB & TROY BERKLEY (LIVE)
TROY BERKLEY & KRAK IN DUB (Live Act)
+ Kanina (Subplate) + Dj Alex (Kronik People) + Dj ZMan (SmokeDog Crew)
Troy Berkley and Krak in Dub are back with their second duo album (since UPGRADES 2017) and it's loaded with Reggae, Hip Hop et Bass Music bangers, NO FILLERS, ALL KILLERS!
SKY HIGH is packed with a wide ranging, booming and dancing cuts from the Argentinian producer Federico Trujillo aka Krak in Dub, along with the mesmerising vocal bars from the Bermudian wonder singer/ MC Troy Berkley. Guiding us through their unique universe of fun, restless and borderless style of living, the long time partners have been touring and releasing music together since 1997. And they are not ready to stop!
Follow Mr Berkley's voice as it rhymes in double/ triple time, or resonates like a Sunday gospel in his native Devil's hole church in Bermudas, or raps from
down the block in NY, or as it unfolds into another joke about life.
With a powerful range of instrumentals going from Ska, Circus style Breakbeat or more melodic hip Hop. « Sky High – The Lyrical Heathen » result is a bold, intensely engaging sound, one that's submerge equally dancing and listening, past and present.
JunGLisT – KRAK IN DUB & TROY BERKLEY (LIVE)