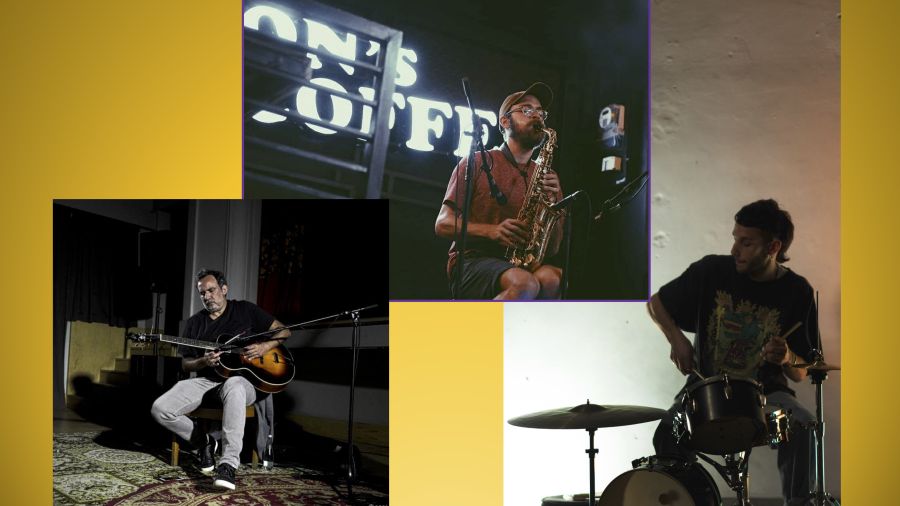 Engel | Furioso | Nuno
Born 1971 in Lisbon, Jorge Nuno is a portuguese experimental guitar player . In the 90's and 00's became involved in alternative rock projects, such as Riddle, Lisamona and Stereo Alligator.
Since 2011 his main focus is exploratory music, mainly recording with Signs of the Silhouette ( http://bambalam.com/) Uivo Zebra (https://bocian.bandcamp.com/album/uivo-zebra)
No Nation trio (https://phonogramunit.bandcamp.com/album/habitation) released on a Label collective i am involved in called Phonogram Unit. Jonas Engel is active as a composing musician in the creative music scenes in Copenhagen and Cologne where he is a member of the "impakt" collective. He is on the constant search to further develop and redefine sound through extended playing techniques, instrument building and preparation. In addition to his compositional approaches, this work is reflected above all in his solo program through acoustic and electronic sound creation. Or in his duo with the singer Thea Soti, as well as the quartet "Our Hearts As Thieves", in which European improvisation encounters American poetry. As a soloist and with his bands "Just Another Foundry" and "OWN YOUR BONES" (e.g. Young German Jazz Award, European Tremplin Jazz Award, Maastricht Jazz Award), he has been on concert tours through Europe, South and North America, the Middle East, China and Southeast Asia. Jonas was part of the Federal Jazz Orchestra (BuJazzO) and received scholarships from various grants, such as DAAD, Fondation Idella, Beckett Foundation, etc.
www.jonasengel.com https://www.youtube.com/watch?v=1JuNxcsLm9c Felice Furious drummer, percussionist, inventor, improviser who practices various versatile languages ​​in the field of creative and improvised music. Since 2014 he has been a member of the Italian collective (cultural association) MuzicPlus, with whom he has worked in various meetings, events, festivals and workshops. He has participated in creative and improvised music festivals and concerts in Italy, Portugal, Switzerland, Austria and Germany and played in concert with Carlo Mascolo, Domenico Saccente, Embryo, Christian Burchard, Marcello Magliocchi, Lothar Stahl, Jens Pollheide, Patrizia Oliva, Pacho Davila, Lori Goldston, Maria do Mar, Dirar Kalash, Yedo Gibson, Vasco Trilla, Miguel Mira, Nicola Guazzaloca, Ernesto Rodrigues, Yoram Rosilio, Paulo Chagas, João Madeira, and more. In 2016 he released an album under the Portuguese Creative Sources Recordings label, "4! Factorial" with musicians Carlo Mascolo, Domenico Saccente and Patrizia OLiva. In 2021 he released the album "CINESTESIA" with Carlo Mascolo and João Madeira under the London label FMR. With Maria do Mar is co-creator of a cicle of events involving audio-visual arts, " deScomposição transitória " in SMUP, Sociedade Musical União Paredense – Portugal. https://www.youtube.com/watch?v=oifKANWMfGM