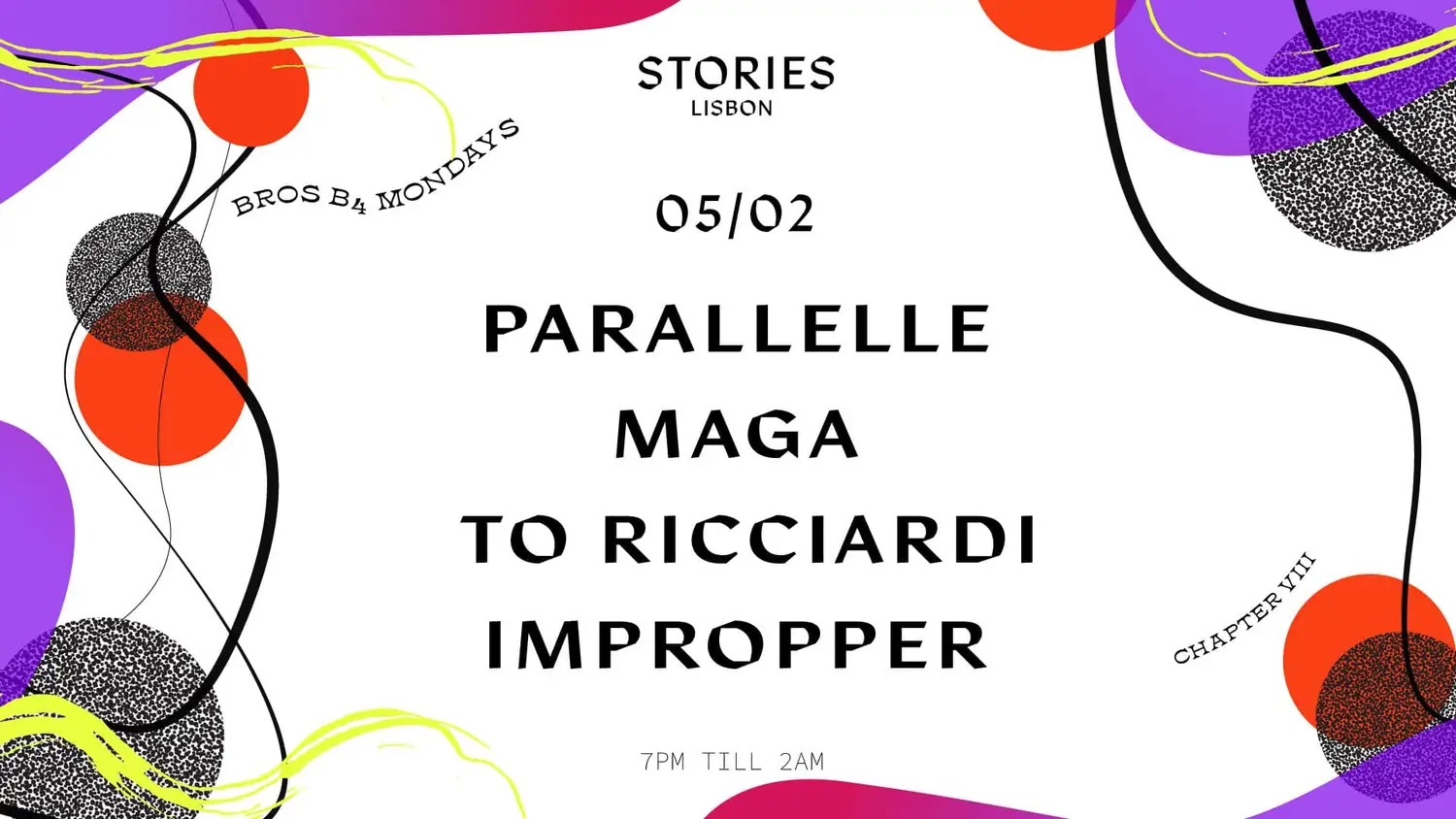 Stories Lisbon: Chapter VIII
PRIVATE Sale Begins: 12/JAN (To access private sale join our Community groups on Telegram/Whatsapp) – PUBLIC Sale Begins once private sale sells out. – All links in Instagram Bio We are again proud to bring you yet another chapter of STORIES Lisbon!
— Lineup — /// PARALLELLE Thomas and Julien are Dutch brothers from South of France. Formerly trained Jazz musicians, they propose either a DJ or electro-acoustic live act mixing several genres whilst keeping a melodic and emotive edge. Passionates in organic music, they put out their own "A Day At" videos showing organic production and live performances through field recordings. Aside from being composers and performing artists, they are also owners of the Klassified label. We're thrilled to have them join us again.
/// MAGA Our co-founder and resident Maga is back to close the night. Maga is an international headliner with releases on Flying Circus, Get Physical, Supernature, Klassified & is the founding partner of the up and coming Scenarios label as well as the Mexico-based non-profit label; Children of the Future.
/// TÓ RICCIARDI Tó is one of 3 Stories residents DJs and the man behind Som de Lisboa music studios and the Sururu Records label. Born and raised in Lisbon, he is one of the pioneers of the electronic Lisbon movement in the 90's. In 1999 he launched his first label and has released his tracks on labels such as Ohxalá, Klassified, SURURU, Particles.s, as well as collaborated with artists such as Richard Dorfmeister and Stefan Obermaier.
/// IMPROPPER Our co-founder and resident IMPROPPER, is back again. One of the main aims of his sets is to be genre-defying and avoiding long high energy moments, trusting groove and emotion to make the audience dance. His sound can most often be placed somewhere at the crosslines of deep tech and indie house, with minimal melodic profiles coupled with a combination of rich organic and electronic percussions.
— More Info — More info coming soon….
Stories Lisbon: Chapter VIII