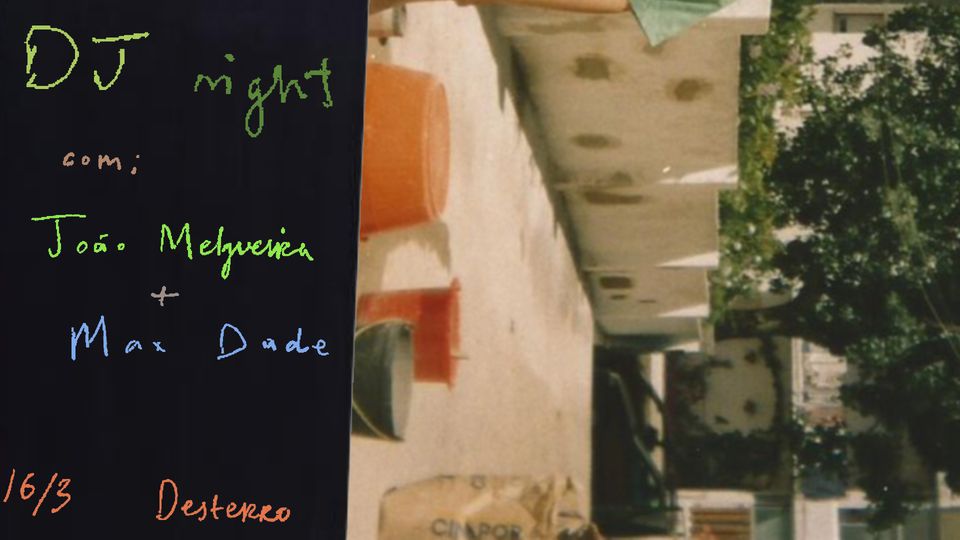 DJ NIGHT
João Melgueira, acclaimed DJ, label owner, and party starter, makes the trip from Beja to do the rounds this Thursday night. Warming up for him is Max Dade, a Desterro resident who runs his monthly series 'datacentre' out of the basement.
———–
João Melgueira, co-founder of Química and owner of @alienacaorecords , has performed at various Portuguese clubs and festivals, including ZDB, Damas, Musicbox, Village Underground, Pérola Negra, NADA Temple, Bons Sons and MUPA. His dynamic closing sets are renowned for their forgotten techno tracks, tempo changes, and sudden energy spikes.
https://linktr.ee/joaomelgueira https://ra.co/dj/joãomelgueira
———–
Developing an unwavering interest in underground and leftfield music since his late teens in the UK, Max Dade has spent years digging through catalogs and archives, backing up countless hard drives and memory sticks, to amass a collection of electronic, beats, breaks and textures with a focus on the cerebral and the physical.
Known for his considered mixing style and often wildcard selections, the left-of-centre DJ tailors each set to the context, blending sonic tapestries from the depths of forward-thinking electronic music. Alongside his practice as a DJ in Portugal, his home for over a decade, he also curates a monthly event series, datacentre, which spotlights emerging and established artists from Lisbon and beyond, among other DIY-style events.
https://linktr.ee/d_mx https://soundcloud.com/mx_dde
———–
*A entrada no Desterro é exclusiva a sócios da DARC, pelo que para os não sócios acresce 3 euros da quota.
*DARC is a members-only non-profit association. A monthly membership card (€3) is requested at the door.