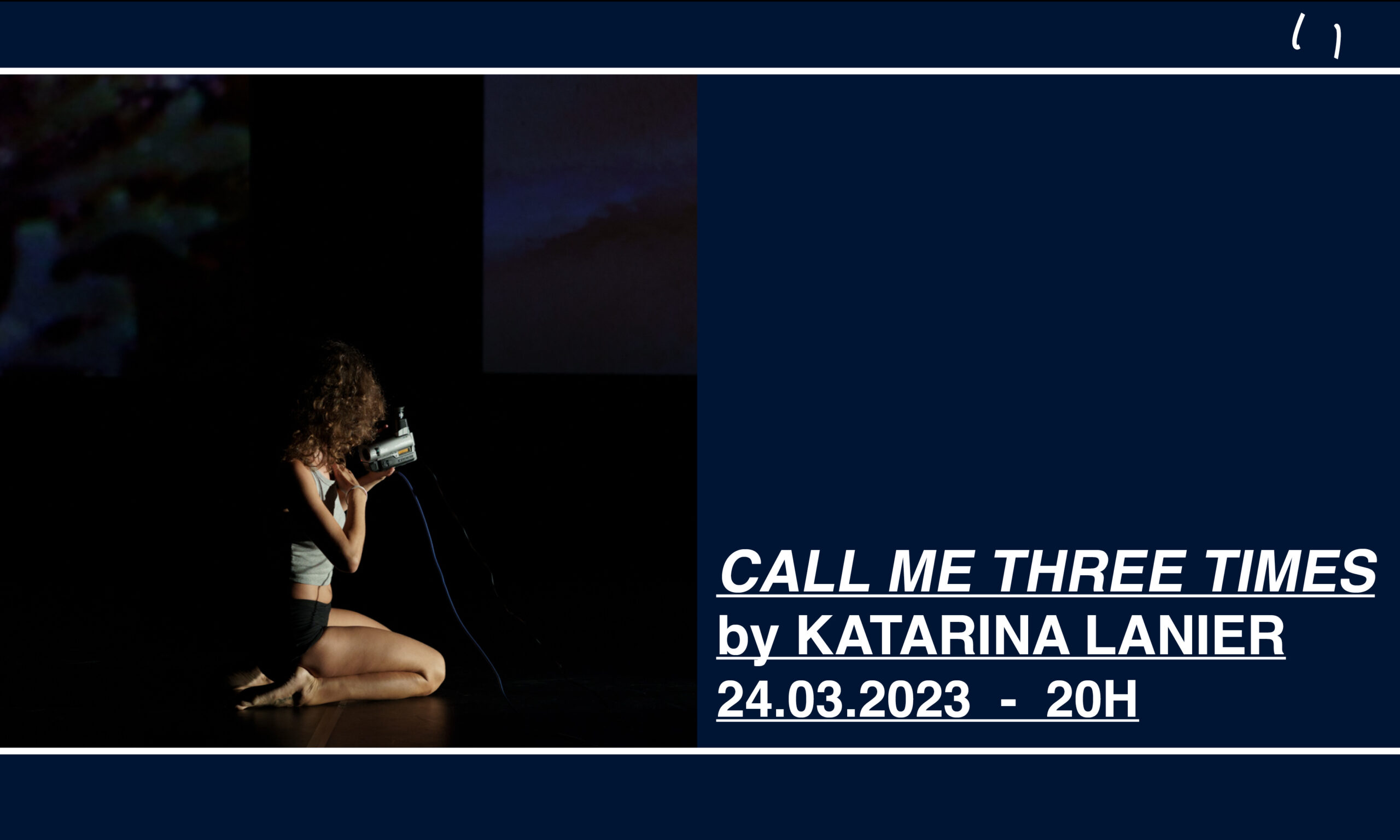 Call Me Three Times
Call Me Three Times is a piece navigating fragmented dream states and realities of desire. It is an exploration of possible fantasies and their limits. Once you localize and formulate fantasy, what are the consequences of making these dreams tangible?  Throughout the piece, the author is both the producer, the technical team, and the performative subject of each image.
Through segments articulated with live-video projection, pre-recorded video, and live-action, the audience is invited to explore the multiple facets of her own questions, vulnerabilities, and their falsification.
The piece was selected as the winner of the Mostra Nacional de Jovem Criadores in 2022.
Tickets: https://www.seetickets.com/pt/event/call-me-three-times/mono-lisboa/2589996
Credits:
This work was developed within PACAP 5 – Performing Arts Advanced Programme, curated by João Fiadeiro in collaboration with Márcia Lança, Carolina Campos and Daniel Pizamiglio and promoted by Forum Dança.
This work was selected as the winner for the dance category of the Mostra Nacional de Jovem Criadores in 2022.
Apoio à residência OPART | Estúdios Victor Córdon. 
Accompaniment through the process: Biljana Lanier, Daphnée Gharaee, Leonor Lopes, Leo Shamah, Members of PACAP5 and the Forum Dança team, Miguel Perreira
Biography: 
Katarina Lanier (USA)- katarinalanier.com
is a bosnian-american dancer, visual artist, and independent researcher. In 2018, she obtained an undergraduate degree in dance from Université Paris 8 and a master's in visual arts from the Haute École des Arts du Rhin in 2020. She completed the PACAP5 program curated by João Fiadeiro in 2022, where she presented the first step of Call Me Three Times, a piece exploring the relationship between image production, desire, and movement. The piece was selected as the winner in dance of the Mostra Nacional de Jovem Criadores (PT). 
Over the last few years, she has created various contexts for artists to encounter such as Quand Tu Marches Tu Cours, a week-long residency of 10 artists sleeping and working in the Temple Saint Étienne in Mulhouse. Or Les Garces de la Saison Froide, a duo with Daphnée Gharaee researching diaspora methodologies in Gruyère (CH). She was a founding member of the radio collective BaklawaFM, a weekly show on MNE.FM composed of Daphnée Gharaee, Laura, and Madiana Kané Vieyra. In 2019, she was a part of the Kunstart program at the Fondation François Schneider with the collective l'Abreuvoir. In 2022, she was chosen as a performer to participate in the NOVe – NOVos Tempos NOVas Dramaturgias in Viseu (PT). 
She has a background in dance, philosophy, and social sciences. Her interests are in collaborative processes, the possible relationships between image production and body composition, and experimental uses of social codes. She has worked in the service industry as a baker, as well as a maid and server of all sorts, and she holds a particular interest in the ways economic exchanges are both reflectors and creators of culture. These days she is assisting and collaborating with choreographers, performers, and videographers. She is researching the contemporary contexts of erotic production and the poetics of desire.